Welcoming Afghan asylum seekers with dignity
After the Taliban took power in Afghanistan many Emmaus groups asked themselves: what can we do to help?
On the European level we sent out a statement with our partner Migreurop which you can read here (in French only). The Executive also decided to support an Emmaus group in Bosnia-Herzegovina which is on the front line in terms of welcoming immigrants taking the Balkans route. Sabina Arnaud from IFS-Emmaus thus gave us a briefing on the situation in Bosnia-Herzegovina and on their action as well as outlining how we can support their initiatives.
Since 2015 IFS-Emmaus has been supporting migrants coming from Syria, Pakistan, Afghanistan, Bangladesh, Algeria and Morocco. Today at the border between Bosnia-Herzegovina and Croatia 2,500-3000 asylum seekers are not staying in the existing camps, as they are too far away from the border and are full most of the time. Hundreds of people, including families with children, are staying in abandoned houses and tents in the Bojna settlement in Velika Kladuša.
They don't even have the basics there, and sleep in tents on the ground and in the mud. They don't always have food and must draw water from a nearby stream. Many of them have tried to cross the border several times, but the Croatian police confiscate their mobile phones, bags and money. These police interventions are very violent and are a violation of their right to asylum.
There are great needs in terms of food, clothing, footwear, hygiene and other basic goods in order to fight against the humanitarian catastrophe that is currently taking place in this area.
Until 2020, IFS-EMMAUS mainly focused its efforts on basic assistance – the distribution of goods and food. Thanks to our experience and presence in the field, we were then able to identify that most of the immigrants needed a place where they could come for a couple of hours, to shower, to have something to eat and a hot drink, to recharge their phones and to receive fresh, clean clothing before continuing their journeys. Most of the migrants don't spend much time in one location. This is why IFS-EMMAUS opened day centres in Tuzla and Velika Kladuša, providing the services mentioned above. These day centres have proven to provide the answers to these people's needs. Every year the number of visitors to our centres and the amount of services provided increases, leading to greater needs in terms of administrative and logistical support.
At the end of June 2021 the Sedra camp in Cazin, where families with children were accommodated, was closed, and due to the better weather conditions, more families settled near Kladuša. Prior to the closure of the camp, a wild camp had already emerged in Bosanska Bojna. This camp was set up by the families themselves but it was under constant police surveillance, making it difficult to distribute food and other items to the families.
Then, to make it easier to receive help, the families set up a wild camp in a field in Kladuša. There are between 400 and 500 people at this site, including children. 99% of these families are from Afghanistan. They are not far from our day center, where they come every day to take a shower, get clothes or shoes, and to use the "children's corner" which we have set up for children so that they can have the opportunity, at least briefly, to enjoy some comfort and happiness. In the day center, people can also recharge their phones and get external batteries for free, have a drink of tea or coffee, and get a meal in accordance with our capabilities and depending on the number of people in Kladuša.
IFS-Emmaus is currently in the process of opening a kitchen in Kladuša, where they will cook meals for these families on a daily basis. Including the people staying in the Miral camp, which is intended only for single travellers, not for families, the number of people in need in Kladuša is somewhere between 2,000 and 2,500.
Since people started to take the Balkans route to reach Europe IFS-Emmaus have had significant support from Emmaus Italy and from other Emmaus groups who have supported this cause. As winter is now just around the corner your support would be especially welcome at this time in order to strengthen their initiatives at the border. You can send your donation to:
Beneficiary Bank:
UniCredit Bank d.d.
Kardinala Stepinca bb, 88000 MOSTAR
Branch Gračanica
Bosnie-Herzégovine
Code SWIFT : UNCRBA22
IBAN :  BA39 3389 1048 0572 3482
Beneficiary Customer:
Nom complet du client
HO MFS – EMMAUS
ZLATNIH LJILJANA 146,
74207 KLOKOTNICA, DOBOJ ISTOK
Numéro de compte client :
28721646001
Currency: EUR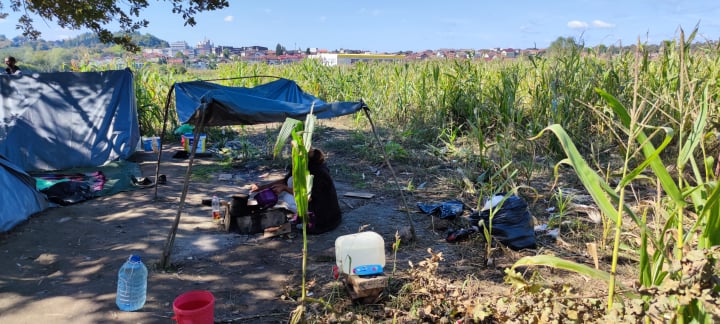 © IFS-Emmaus