Emmaus Bolton – Joinery and Upcycling Workshops
Two years ago Emmaus Bolton opened workshops where they make wooden items and upcycle furniture. The idea behind this was to provide the companions with the opportunity to acquire new skills and it has worked a treat!
Emmaus Bolton is a community based near Manchester, in the UK. The group's 22 companions carry out the classic Emmaus work of collecting, sorting and selling objects on at a low cost but they're always thinking up new initiatives for the future too! Their qualified joiner, and craftsman helps the companions to learn the trade, meaning that they are now capable of taking on a wide range of projects.
So far they have made tables, chairs, wardrobes, bookcases, shelves, radiator covers and garden furniture. These items are then sold in the Emmaus Bolton shop but that's not all, they also offer a custom-made furniture service, helping to bring their clients' ideas to life!
4-6 people work in the workshops on a daily basis. They use recycled wood whenever they can but if they ever have to buy new wood they will ensure it comes from sustainably-managed forests (where logging doesn't threaten the health or survival of the forest).
It normally takes them a week to produce custom-made pieces and their customers are always delighted to be involved in the design stage and in choosing the finishings for these items. They can choose the colour, the varnish and the wood treatments for all articles made by the companions, helping to strengthen the relationship with the customers and making the community even more open to the outside world. This new activity has also represented an opportunity for the companions to learn a trade, something which is important for them professionally as well as for their self-esteem.
More information: https://emmaus.org.uk/bolton
Circular economy / The environment 
News
United Kingdom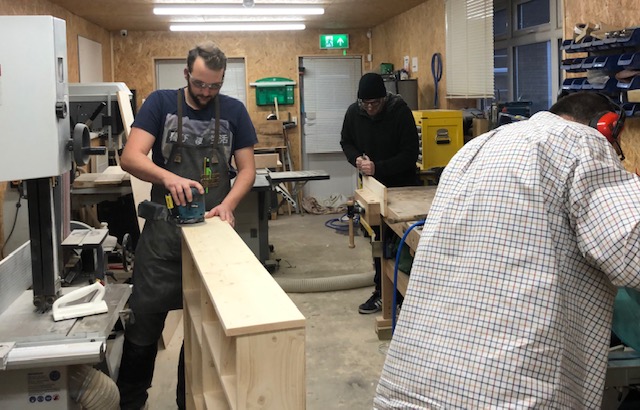 © Emmaus Bolton