A discussion with Julio de la Granja, national delegate for Belgium on the board of Emmaus Europe.
Tell us about how Emmaus began in Belgium. 
In Vivegnis, a suburb of Liège, William Wauters and his friends took action in 1949 to support poor families who were still suffering in the aftermath of WW2. They renovated hovels as well as distributing coal, food and clothing. Their efforts eventually led to the creation of the first Emmaus community in Belgium, the Emmaus-Brasier community.
In 1960 the Belgian economy got back on track and daily life began to improve for our people. The community thus decided to focus on helping countries from what we used to call, back then, the "third world", and they launched the "Terre" [Earth] group. This group set up income-generating initiatives in order to improve the living conditions for the local people for the long term. Terre began to move away from the Emmaus movement in the 1990s but the Emmaus adventure is still alive in Belgium nonetheless!
The working community in Ghlin and the Emmaus community in Brussels were both founded in 1957. Following the death of the leader of the Brussels community and upon a request from Abbé Pierre, the La Poudrière community took on the responsibility for the community in our capital in 1975. This community had remained independent from the movement since it was founded in 1958 but it joined the movement through this merger in 1975. In the 1960s two new communities emerged in the region of Charleroi: the Marchienne-au-Pont and Lodelinsart groups. The Lodelinsart group closed in 2018.
We now have 3 Emmaus groups in Belgium: Marchienne au Pont (Charleroi), Ghlin (Mons) and La Poudrière with its 3 sites (Brussels, Péruwelz and Rummen farm). We have 4 sales areas and over 140 people involved in the movement in our country!
What types of activities and initiatives are led by Emmaus in Belgium? 
In Belgium the three Emmaus groups are all traditional Emmaus communities. We have 60 companions living and working in our 3 groups. We lead the traditional Emmaus activities of collecting, sorting and selling second-hand objects. Combined, our 3 associations collect around 1,000 tons of furniture, clothing and electronic goods per year, 70% of which are brought back into circulation in our shops.
The La Poudière community has also been doing a lot of work at Rummen farm since 1964. We rented this farm, based in the Flemish region of Belgium, in order to produce fruit and vegetables and to rear livestock (pigs, sheep and hens) to feed the community. Nowadays we produce 50 tons of apples, 5,000 bottles of apple juice, pears and prunes at the farm every year. We sell our produce in our shops in Brussels and Péruwelz.
Over the last three years we have been working to develop the bike part of our activities in Brussels, work which has been recognised by the regional authorities. Our workshop where we fix and sell bikes is open to the general public 5 days a week. The majority of the bikes we sell are collected by the community from local recycling centres before being fixed in our workshop and then sold on.
Our community in Ghlin was concerned about the environmental and economic impact of producing waste and thus sought out innovative solutions to this issue. For several years they have been taking action to reduce their environmental impact (collecting rainwater, improving the insulation of their buildings, carefully managing their heating system and installing solar panels) but recently they were looking for an idea for how to better promote recycled wood, similar to their work with clothing, books and electronic goods. This innovative project, launched by a collective that wishes to add value to second-hand wood thanks to their collaborative carpentry workshop, is called Holy-Wood. They also create eco-design furniture and have opened a shop selling environmentally-friendly products.
In addition to our local initiatives several important events for our movement have been held in Belgium over the years. The world assembly was held in Namur in 1984 and the regional assembly was held in Brussels in 2009. These general assemblies are important moments where members of our movement come together for debates and to take key decisions.
What are the current challenges for the Belgian groups?
Our 3 communities were all created more than 60 years ago and their current leaders have been involved in the movement for many years. We mainly offer welcome to undocumented persons because Belgian residents have access to a lot of social support from the central government and from the local authorities. The people we welcome often leave our communities once they are granted the right to stay in Belgium, they don't see Emmaus as part of their long-term plans.
Our three communities are, therefore, coming to a crossroads and we must find people to lead our associations for the years to come. This is already beginning to take shape as certain roles within our groups are becoming more professional (the role of driver and admin roles, for example) and thanks to partnerships with other associations.
Notable partnerships include:
The L'Ilôt house which has set up a partnership with our Marchienne-au-Pont group for support in managing community life
The Compilothèque, an association of artists which has set up a partnership with our group in Brussels. They rent part of our premises and help us with the daily activities of our community
The Scheldt Plains Nature Park, an environmental association working in this park along the border with France uses office space at our Péruwelz site and helps us with our work with wood and with our orchard in Péruwelz
The Terre group, which used to be a member of Emmaus, buys surplus clothes from our Péruwelz site
Generally speaking it is important that we pass on values such as giving, sharing and fraternity to young people. These values are brought to life in Thierry Coppée's fresco, 'L'entraide', based on his comic book series called 'Les Blagues de Toto'. The fresco was made for the 60-year anniversary of the Ghlin community. For the last 13 years the La Poudrière community has been running summer camps at Péruwelz, generally hosting around 10 young people at the site over the first two weeks of August. We also host young people doing their Belgian civic service at La Poudrière for periods of 6 months. All of these initiatives will help ensure that young people will soon take over the leadership of our communities.
How have you been managing since Covid-19 struck and how have you adapted to deal with the situation? 
In 2020 and at the start of 2021 we had to stop our collections several times due to the Covid situation. Our shops were either fully closed, half open or completely open, depending on the measures put in place at the time by the Belgian government.
During lockdown we had to stop all activities taking place outside and just focus on jobs that we could do inside the communities: cleaning up the shops, focusing on the environment and doing some gardening. It was a tough period but the whole experience actually brought us closer together!
From an economic point of view, yes, we lost income during the Covid crisis but our expenditure was also lower during this period. Whenever we could start selling again our customers came in number, ensuring that we got plenty of money in. Our shops are now open as usual once again and our activity is back to normal. Emmaus Ghlin, however, cannot yet do collections from the general public due to social distancing measures, so it's a little bit more difficult for them. But, overall, the situation in the communities is pretty good!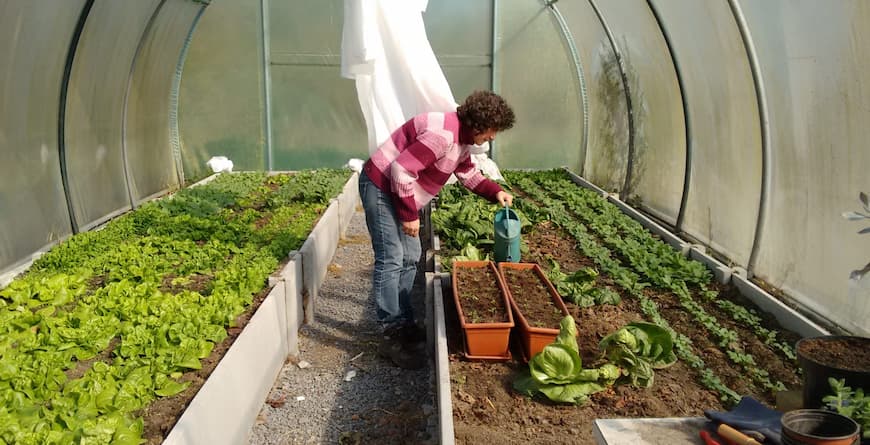 © La Poudrière Emmaus