Despite the war the Oselya group is continuing its fight against poverty
Emmaus Oselya is continuing with its work to support vulnerable people whilst also continuing to lead its income-generating activities. This group fights to offer dignified living conditions to the thousands of vulnerable people who are living in the Lviv region as well as to the victims of the ongoing conflict.
For several years Emmaus Oselya has distributed 150 hot meals to vulnerable people on Thursdays. In 2023 the group has distributed over 5,700 meals thanks to the funding provided by the Ukraine Fund.
In addition to all of this Emmaus Oselya also offers various services at its new day centre that was opened in January 2023 and that was largely funded by the Ukraine Fund (a fund that has been built thanks to the contributions of many Emmaus groups from all across the globe). In the 9 months that the centre has been open it has done a great job: the centre has welcomed over 1,346 people, including 492 internally-displaced persons.
Welcoming more people within the community
Since the start of the conflict Emmaus Oselya has been hosting 10 internally-displaced persons as companions. Since 2021, due to the pandemic and then the outbreak of the war, the group has doubled the number of people it welcomes, up to 30 companions from 15.
In September 2023 the group learned of the death of Nazar, a former companion of the community. He died in the fighting at the age of 29. A portrait of Nazar can be found on Facebook. Just to remind you that 15 companions have left for the front since the conflict broke out in February 2022.
Defending human rights / Migration 
News
Ukraine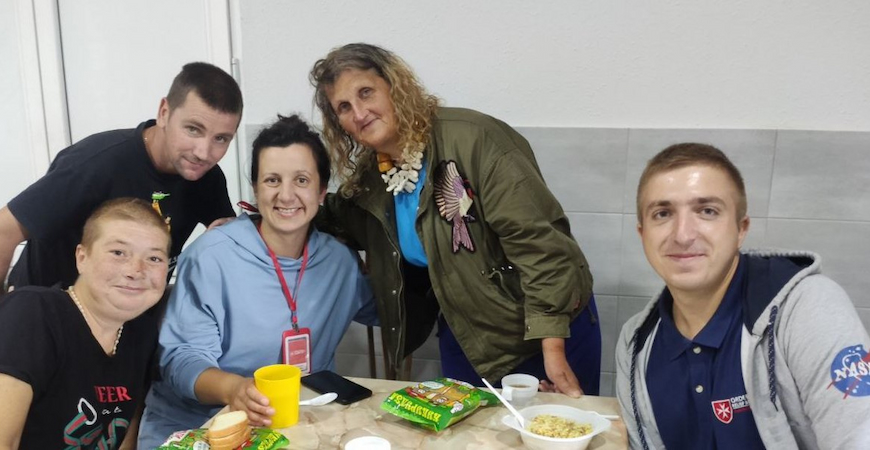 © Emmaus Oselya