Emmaüs Brighton & Hove: A botanical wonderland in Portslade
Head to the conservatory at Emmaus Brighton & Hove, and you will find a garden shop with a difference. The Greenhouse @Emmaus is a botanical wonderland – a secondhand garden shop filled with a selection of indoor and outdoor plants as well as gardening treasures donated by the public.
The shop is jammed to the rafters with plant pots, gardening books, tools, furniture, wellies, vases, gnomes, faux flowers and other plant-themed bric-a-brac – all at bargain prices. Many of the plants are grown lovingly onsite in the polytunnel or donated by kind supporters. The Greenhouse is like something from a dream – delicate background music and the sunny location add to the ambiance, and visitors frequently gasp in delight when they walk in for the first time.
Before the pandemic, The Greenhouse regularly hosted botanical-themed craft workshops – where members of the public learned how to make things such as terrariums and macramé plant hangers or how to draw botanical illustration – with all proceeds going to support the community. These popular workshops will start up again soon – once it is safe to do so.
As well as the garden shop and polytunnel, the Greenhouse project also boasts a community allotment and a popular seed swap drawer, where members of the public can place unwanted seed packets and swap them with others for free. The allotment is tended by 9 companions who this year are growing many different varieties of veg for the community.
Emmaus Brighton & Hove in the south of England is the largest Emmaus Community in the UK, with 53 formerly homeless men and women living onsite and staffing the shops and café. The Greenhouse @ Emmaus accepts donations of all good quality gardening items and plants. Head to the Emmaus Brighton facebook page for more details.
Circular economy / The environment 
News
United Kingdom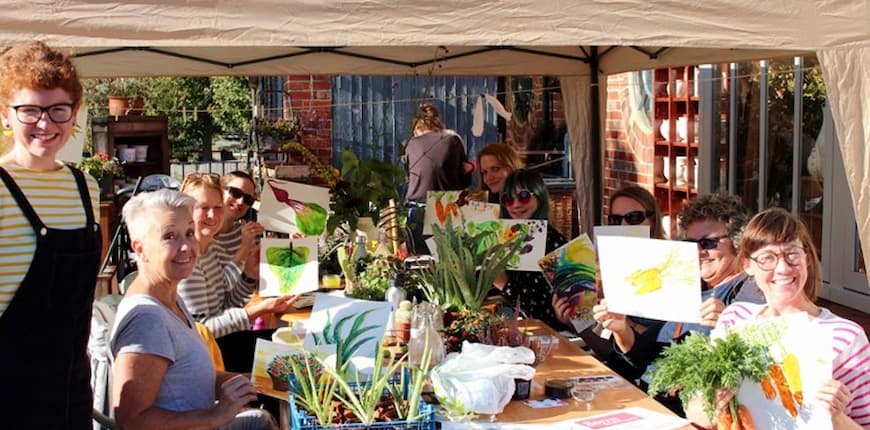 © Emmaus Brighton & Hove