Emmaus Mundo: a green, open, multi-activity sales area!
The renovation of a sales area, a key space in any Emmaus group, may represent an opportunity to launch new projects. We met with Joël from Emmaus Mundo and Nicolas from Bâtisseurs d'Instants (Builders of Moments) and they told us all about their adventure of creating a new sales area in Alsace whilst bearing in mind the challenges our world is facing.
You recently inaugurated your sales area, but it's much more than a mere sales area, isn't it? 
In order to find a sustainable solution to the challenges of tomorrow we at Emmaus Mundo decided to develop a new site in North Eurométropole, Strasbourg, with a view to widening the scope of our activities and our missions and to have a new tool to help tackle the challenges created by a society of excessive consumption which constantly produces both consumer goods and deepening exclusion.
We believed that this new site should take into account the different challenges of the ecological transition and the transition to a more solidarity-focused society. Being cramped (too cramped) on our old site (which was 1,300m2), it became essential for us to find a new site in order to simplify and fluidify the way we work and to be able to develop new projects related to the transitions our society is facing. Our cooperative and solidarity-based recycling centre recently opened (after four years of work) in Bischheim. On this 4000m2-site (on a 1-hectare plot of land), 1900m2 will be dedicated to sales areas whilst we have also built workshops (for carpentry work, for fixing electric goods, a FabLab and a sewing area), as well as a conference room and a restaurant!
For the layout of the site we decided to get in touch with a scenographer to help us think about the division of the spaces, the movement of people around the site and the appeal of the areas, focusing on creating a fun atmosphere and having aesthetically-pleasing shops. The idea was to avoid making duplicates of things we already have and to opt for materials that have been reused or recycled wherever possible.
This new site is a lot bigger than your old site, what are your ambitions in terms of the development of your social initiatives in Bischheim? 
This upscaling of Emmaus Mundo will help us to meet the dual challenges of the ecological and social transition alongside the need to balance our budget: we have doubled the size of our sales area, we have doubled the number of staff on re-integration schemes on our traditional activities and we have created new jobs (our objective for the next 5 years is to have 150 staff per year whilst we currently have 50 staff members). We will also be collecting more materials (the number of requests for collection continues to rise from both the general public and from companies), we will have greater sorting capacity and our aim is to reach a re-use rate of 50% (we are currently at 35%) as well as reducing the amount of ultimate waste at this site.
The organisation of our work to prepare for re-use (the majority of the donations we reuse arrive in our sales area) has gradually been changed in order to develop new skills and to increase the amount of re-use and repair within our group. We are currently setting up teams for different sectors, with a technical expert working as the supervisor of the staff teams of people on re-integration schemes. These 'sector expertise' teams will take responsibility for the objects after an initial sorting phase and will manage them until they are sold – working on repairing, recycling or reusing these materials.
We asked each staff member to identify their preferred sector (between textiles, furniture, tableware, books, etc.) and to manage the objects from their arrival at the site until they are sold. Thus each member of staff will be involved in sorting, selling and fixing objects, discovering all the different parts of the journey that these objects take within our group. The idea behind this was to build up the skills and the knowledge of the staff members within Emmaus Mundo.
How did you come up with the design and layout of this site, notably for the restaurant? 
We thought about several different things. We thought about practical aspects: what are our needs in terms of sales volumes per shop when compared with our old volumes, what are our needs in terms of storage space and how will people move around within the spaces and between different spaces.
We thought about functionality: choosing the locations of our shops based on the shortest distance between the storage spaces and the sales areas. What types of specific sales tools could we use here?
We thought about visuals and aesthetics: each space will have its own 'world'. The materials used for the walls differ for each space. The typography used for the signage in each shop have their own graphic identities and are visible from the entrance to the sales area. The layout of the space resembles that of a village – the entrance is an open space, like a public square (with the restaurant) and from here the streets branch off towards the various shops. We opted for a clutter-free look so that the eye is not overly solicited and so that the surfaces of the walls can be used in the future for exhibits. We used old doors in the construction work for some of the shops, we used corrugated iron for our electric goods shop and we used bike frames to make the curved porticos which show where the tills are.
In our sales area the main objective of our solidarity restaurant is to provide access to good quality, healthy and balanced meals to all. We intend this to be a place for living and socialising that is simple, warm and open to all, where we serve good meals at low prices. We are looking to provide a sociable, cheap option where people living in precarity and workers can meet and build relationships during a meal or over a coffee (our restaurant is open from 11am to 5pm). We also intend to use the restaurant as a place to train people and to re-integrate them thanks to the various jobs involved in cooking and catering. We have created the equivalent of 4.5 full-time jobs in the restaurant in order to achieve this goal.
Ecology is at the heart of our movement. How did you make this a sustainable design project?  
Our first thought was to work with recycled materials which we have easy access to (doors, bikes, etc.).
Our second idea was to use locally-sourced wood. This helped us to create a simple, fun look which is modulable and can easily be taken down and reused elsewhere if required.
Also, the lights on the site are all LEDs (both inside and outside) and we focused a lot on the insulation of the building. We installed a heat pump which is highly efficient and uses only small amounts of geothermal energy. We do not use fossil fuels to power this site.
Furthermore, Emmaus Mundo has been leading regular, long-term environmental awareness-raising initiatives amongst various groups since 2019: amongst our staff and our volunteers, and amongst the general public, notably targeting young people. Our association decided to implement a range of activities – theory-focused sessions, practical work and creative workshops (notably using games) – in order to raise awareness amongst these different target groups about how to avoid producing waste, about consumption, about being an eco-citizen, about food waste and about various other ecology-related issues.
To find out more visit https://emmausmundo.com
Circular economy / The environment 
France
News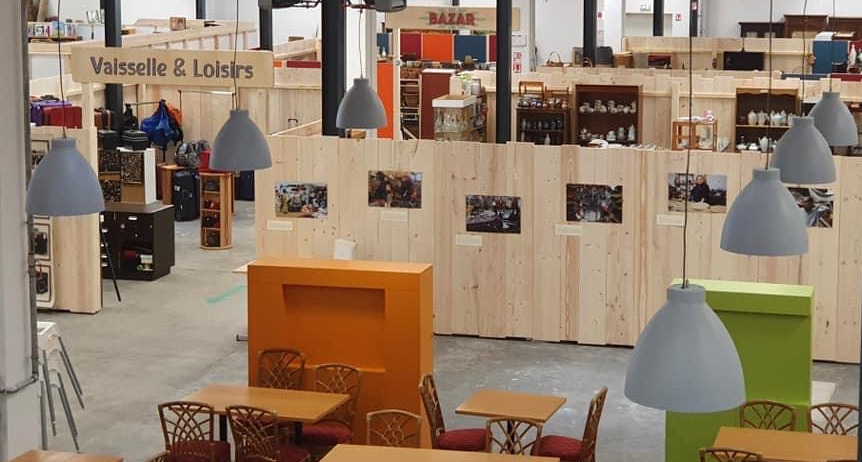 © Emmaus Mundo