Solidarity with Ukraine: A new social center to escape war and poverty
On 6 January, companions, friends, and partners of Emaus Oselya gathered for the inauguration of the new support centre "Olesya Sanotska" in Vynykky, Lviv, Ukraine.
It almost felt like a miracle standing in front of a building with nothing but a hole in the ground, less than five months ago. Many people have made incredible efforts to build this house in the shortest time possible, with a Russian invasion and full-scale war always present. The key person in this process is the community leader of Emmaus Olesya, Natalia Sanotska, sister of Olesya Sanotska, the deceased founder of the Emaus Oselya community. Natalia ensured that every little piece in this 400 m2 building fell into place. This project is an excellent example of what happens when the Emmaus movement, a private construction company, the local council and other various NGOs, parishes and churches come together for a common goal.
"Anyone can become homeless", said Leonid Melnyk, managing director and owner of the Rial construction company in Lviv, in his speech at the inauguration. In just five months, he and his builders completed the support centre, despite the war and sometimes a shortage of building materials. Leonid has been in the building sector for more than 40 years, but this project was the dearest to him and where he has put his heart and soul.
There have been doubts about making such a significant investment in a country at war, but why wait? It is now they need the centre the most.
A quarter of the Ukrainian population has left their homes. Many have left for the western parts of the country, like Lviv. This new centre will be a unique meeting place for many internally displaced people and the homeless. It is a possibility to welcome people with dignity. I am proud that we managed to build something new while the eastern parts of the country are suffering from Russian missiles and put into ruins.
Natalia and her companions from the Emmaus Oselya community will start welcoming homeless and internally displaced people to the new centre in the middle of this month, offering services such as showers, medical and social advice, hairdressing, and laundry. There will also be a small cafeteria and a free shop with clothes.
Ten beds will also be available for the ones who need to spend a few nights to rest on the road to exile.
I want to thank all Emmaus groups in Europe who contributed to the Ukraine Fund. I am proud, impressed, and grateful that together with Emmaus Oselya and their partners, we were able to complete this project. Helping people in need are natural to Emmaus Oselya. That is what they have done for more than 14 years now in a small support centre, but to build a house in the middle of the war, is something extraordinary. Only remarkable people could be brave enough to accomplish a project like this in such a short period.
Let this house be where lost people will find new meaning in life, where tired people can get new energy and wash away their problems in the shower – at least for a while. Let this centre be a meeting place where miracles happen and where people regain hope and a belief in the future.
At the inauguration, Leïla Thouret, Jean-Philippe Légaut and Carina Aaltonen represented the Emmaus Europe executive, and Eve Poulteau and Emmanuel Rabourdin represented the Emmaus Europe secretariat. Zbigniew Drazkovsky from Emmaus Lublin was also present as a long-time partner of Oselya
By Carina Aaltonen, Chair of Emmaus Europe
News
Tackling Poverty / Solidarity
Ukraine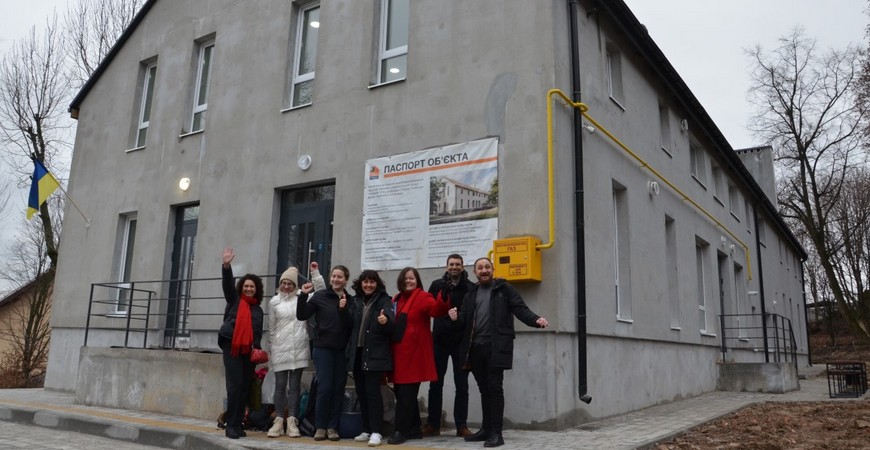 © Emmaus Europe