Solidarity with Ukraine: Emmaus is taking action
Emmaus groups across Europe and worldwide are taking action to help the Ukrainian people.
A "Ukraine solidarity" emergency fund was swiftly set up by Emmaus Europe in order to meet the needs of the Emmaus groups in Ukraine, Poland, and Romania. All Emmaus Movement organisations can donate to the fund. Some groups have arranged or planned special solidarity sales. The funds raised are enabling the Ukrainian, Polish and Romanian groups to purchase the emergency food and other supplies (hygiene kits, medicines, beds, etc.) needed to support the people fleeing the conflict zones.
The funds raised are also being used to financially support the Ukrainian communities (Oselya and Nasha Khata), as all their income-generating activities have been stopped since the start of the conflict, yet the groups still need to be able to continue housing and supporting companions, helping the homeless in the Lviv region, doing outreach work, and handing out food. Lots of second-hand goods have been transported to the area: furniture, beds, crockery, domestic appliances, kettles, toys, sleeping bags, sheets, blankets, bath towels etc.
In a joint press release on Thursday 3 March, Emmaus International and Emmaus Europe reaffirmed "that we stand in full solidarity with the Ukrainian people, victims of unjustified aggression that violates international law." Both organisations are calling on the EU institutions and the EU Member States to "unconditionally welcome all the people fleeing this conflict" and "we call for open borders, full respect for the principle of non-refoulement and for a broad application of the refugee status", while stating that  "we condemn, in particular, the refoulement or differentiated treatment of people according to their nationality or origin."
Emmaus International, Emmaus Europe and Emmaus France are also taking part in a third sector grouping for solidarity with Ukraine, aiming to coordinate initiatives to support the Ukrainian people, mobilise civil society, and challenge European politicians.
People are being called on to protest in Paris and in towns throughout France on Thursday 17 March. Click here for information about the demonstration and the third sector grouping's demands.
The Emmaus Movement is once again demonstrating that welcoming victims of brutality and injustice, wherever they come from, is at the heart of its work, just as the principle should be at the heart of society's values.
Defending human rights / Migration 
News
Ukraine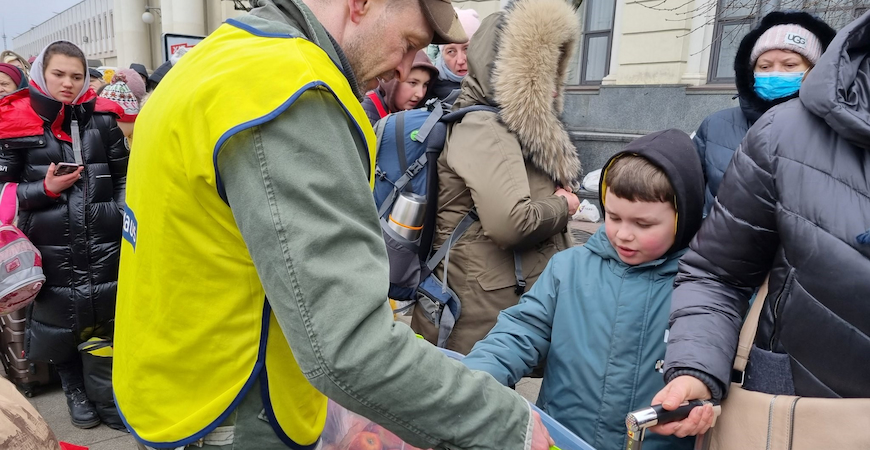 © Emmaus Oselya