The birth of the new Emmaus Romania Federation!
On 1 June the three Emmaus groups in Romania met in Iaşi to finalise the creation of the Emmaus Romania Federation, the new national organisation for the country. Thanks to this shared body the three groups will be able to overcome the geographical distance that separates them in order to better promote Emmaus' values and to work together to ensure that their voice is heard on the national level.
Gelu Nichitel, the leader and founder of Emmaus Iaşi, will be serving as the first Chair of the federation whilst Jean-Philippe Légaut and Rodica Bizu, the Chairs of Emmaus Satu Mare and Emmaus Targu Jiu, have been named as Vice-Chairs.
The first Emmaus group was created in Romania in 2001 when Emmaus Iaşi joined our movement. Emmaus Satu Mare joined in 2015 before Emmaus Targu Jiu joined in 2017.
The initiatives led by the 3 Emmaus groups in Romania
Emmaus Iasi
Officially opened in 2001 by Abbé Pierre, the Emmaus Iaşi foundation has been working to support the homeless and vulnerable in Iaşi, which is in the north-east of Romania, for over 20 years. Outreach work and "doing the rounds" is at the heart of what this group does. The companions are housed in various community houses. In Iasi the companions work in the second-hand shops and are actively involved in the group's solidarity programme. Meanwhile at the group's site in Popesti the companions look after the shop, the animals and the crops as well as leading carpentry and sewing activities. Lastly, at the Belvedere site the group owns 20 hectares of land used for cereal farming, orchards, market gardening and small-scale livestock rearing and Emmaus Iaşi also runs construction, carpentry and sales workshops at this site.
Emmaus Satu Mare
Emmaus Satu Mare hosts around 20 young people aged 18-25 years old, most of whom came to the group from the country's child protection system. The group supports these young people in their personal and professional development, it provides them with a safe and secure environment where they can start to plan for their futures thanks to personalised career plans that they develop with the team at Emmaus Satu Mare. This group is based in the north-west of the country.
The 'friends of Emmaus' Targu Jiu
The 'friends of Emmaus' Targu Jiu association is an association made up of volunteers and staff members that is based in the south-west of the country. The group collects objects and also collects clothing from the 4 containers set up across the town. The association then sells these second-hand goods and uses the proceeds to support the activities of a children's centre as well as to help vulnerable young people to find work/training.
News
Romania
Tackling Poverty / Solidarity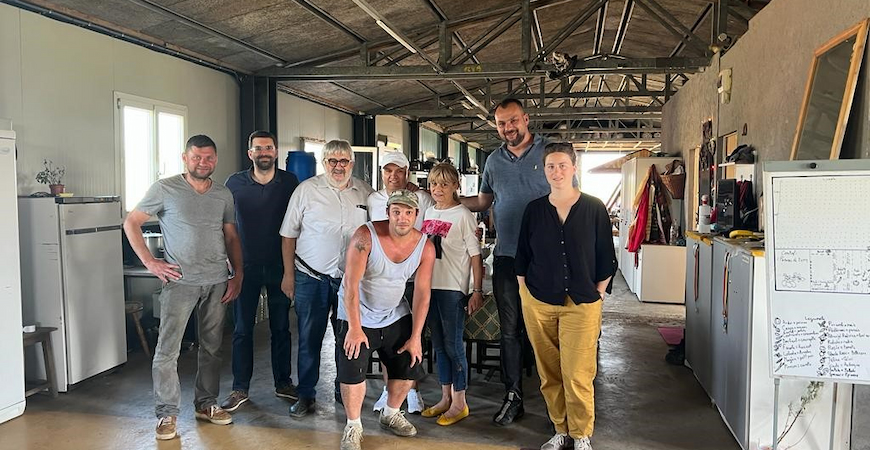 The members of the new Romanian national organisation in Iaşi in June 2023. © Emmaus Iaşi