Georgia: Emmaus Geo is supporting refugees
The war in Ukraine has triggered a wave of solidarity in Europe and around the world. The Emmaus groups located in the countries neighbouring Ukraine are helping refugees, with each group running initiatives that draw on their know-how, such as the initiative run by Emmaus Geo in Georgia.
Since it was founded, Emmaus Geo has been working with the Georgians displaced following the annexation of Abkhazia and South Ossetia by Russia in 2008. Working in several locations in the Tbilisi suburbs, on the brownfield sites where many displaced people have settled, Emmaus Geo hands out clothing, hot meals and food. This Emmaus group also helps them with their administrative and legal formalities.
Since late February, and the Russian invasion of Ukraine, Emmaus Geo has been doing the same work with Ukrainians fleeing the fighting: handing out crockery, clothing (over 500kg since early March), beds for children, and food. Thanks to Emmaus Europe's Ukraine Fund, the association is going to be able to provide over 500 hygiene kits for refugees.
At the present time, over 30,000 people from Ukraine have taken refuge in Georgia, and roughly 500 new people arrive every day. They travel by plane or car, via Poland, Armenia, Austria or Turkey, in the main.
Just like Croatia, Georgia has had strong links with Ukraine since the various wars that have brought it into conflict with Russia. In 1993 and 2008, Ukraine supported the Georgian army by sending soldiers to fight side by side with the Georgians. The Russian invasion has further strengthened the bonds between the two countries.
Emmaus Geo – the movement's first member group in Georgia
Emmaus Geo was founded in 2015 and aims to help the most deprived people in Georgia by supporting and housing vulnerable people, and handing out essentials (clothing, food, school supplies, etc.). An Emmaus group since 2017, that same year also saw Emmaus Geo acquire a residential building enabling the group to house five companions involved in its income-generating activity. The association's main activities are collecting and selling clothing in two shops located in Tbilisi and Kvareli, as well as outreach work with vulnerable communities in the Tbilisi suburbs, supporting roughly 300 families.
Coordinated solidarity in response to the situation in Ukraine
The Ukraine Fund, comprising donations made by Emmaus groups worldwide, supports the everyday work of our groups in Ukraine and Poland. This fund is also used to support one-off initiatives set up in the countries of Eastern Europe to primarily house and support refugees. Emmaus Europe centralises the donations and is supporting the groups based on the Ukraine war-related expenses that they incur every month.
Defending human rights / Migration 
News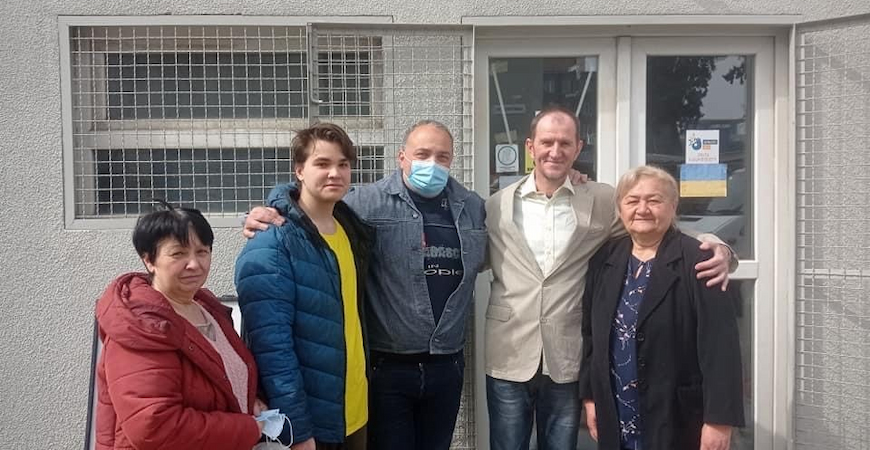 © Emmaus Geo